HIGH-QUALITY & COST EFFECTIVE BATH & SHOWER REPAIR
With over 30 years of experience in the bathroom repair industry, Nu-Bath Inc., offers you high-quality, time-tested bath & shower inlay repair kits. We proudly stand behind the Nu-Life Bath & Shower Inlay Kit® as the best and most cost-effective solution to permanently fix your fiberglass bathtub or shower floor.
LEADING MANUFACTURER IN THE BATHTUB REPAIR INDUSTRY
We lead the bathtub repair industry with cutting-edge technology, which led to the creation of the Nu-Life Bath & Shower Inlay Kit®—one of the greatest breakthroughs in the bathroom repair industry in the last 20 years. Our commericial-grade, easy-to-install bathtub & shower inlay repair kits are forever changing the face of our industry for the better.
OUR INLAY KITS CAN ALSO BE USED ON FIBERGLASS OR ACRYLIC POOL STEPS
We can also custom-design inlay kits to repair pool steps.
Take a look at the before & after results below!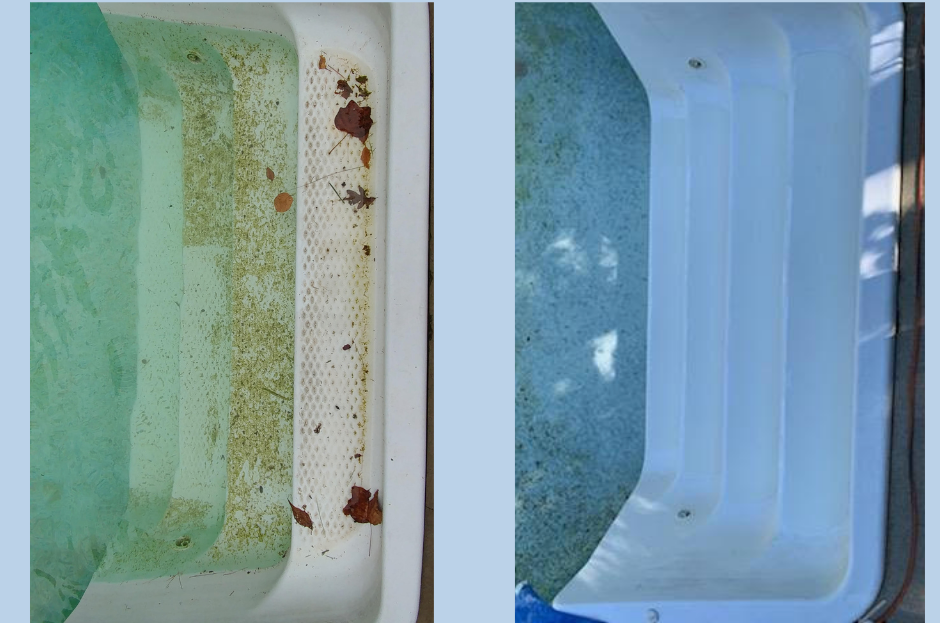 Our commercial-grade inlay kits are a quick & cost-effective solution for professional refinishers.
Save time money & hassle.
No customer callbacks.
100% positive referrals from installs.
Wholesale rates for multiple orders.
Fill out our online order form to get started:
CUSTOMER SATISFACTION IS OUR #1 PRIORITY!
READ OUR TESTIMONIALS:
Alfred Porter, Kitchen & Bath Solutions
"I've been working with Mike and the Nu-Bath team for years and their product is a cut above the rest. Solid product, solid team, solid solutions!"
Frederick Voss, Coast Bath Resurfacing
"We have worked with Nu Bath for many years. They have the best quality products and fastest turn around time. They are friendly and helpful too!"
Lisa Deck, MB Link Refinishing
"Very kind, work done in a timely manner, excellent product and cost is very reasonable."
Rich Feinberg, Carolina Bathtub Repair
I've dealt with this company using their products for at least 15 years. Best customer service and high-quality products.
These are the only bathtub and shower bottom inlay system that I could possibly recommend.
I have tried a lot of others and none compared to the quality of Nu-Bath.
Kevin Jenkins, Professional Refinisher
These inlays are the best product on the market. Don't be fooled by other companies trying to sell a similar thing- this is the real deal! They are high-quality, affordable and always fit perfectly. Thanks to Mike and his team for always going above and beyond for us.
Bryan Earl, Fox Valley Bathtub Refinishing
The inlays from Nu-Bath are the best in the industry. From their precise measurements to their two-part adhesive. Since we have switched to Nu-Bath we have not had one single failure. This is the best option for a cracked tub bottom or shower pan - hands down!